Bookmark our weather page for
fast
weather !
What Is A Low Power FM Station ?
The Low Power FM (LPFM) radio service was created by the Federal Communications Commission on January 2, 2000. LPFM stations are authorized for noncommercial educational broadcasting only (no commercial operation) and operate with an effective radiated power (ERP) of 100 watts (0.1 kilowatts) or less, with maximum facilities of 100 watts ERP at 30 meters (100 feet) antenna height above average terrain (HAAT). The approximate service range of a 100 watt LPFM station is 5.6 kilometers (3.5 miles radius). A construction permit is required before an LPFM station can be constructed or operated. List of LPFM stations : http://lpfmdatabase.weebly.com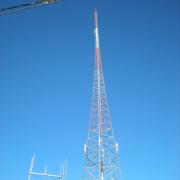 Inside You'll Find ;

-A complete copy of all FCC rules, regarding LPFM.

-A guide to revenue producing programming, to make your station self-sufficient.
-A list of equipment suppliers, and costs for necessary equipment.
-Sources of local, low or no cost, qualified, engineering/ construction help.
-Low or no cost sources of qualified engineering help, to modify your existing construction permit, if you need to.

-Source list of low, or no cost 24 hour programming, and reduced cost cd's, etc.
-A listing of all the licensing fees you'll have to pay on a yearly basis, to stay legal.
NOW THAT YOUR GROUP, CHURCH, OR SCHOOL WANT TO BUILD, OR HAVE APPLIED FOR A LOW POWER FM, DO YOU KNOW HOW TO BUILD IT FOR LESS THAN $5,000, WITH NEW EQUIPMENT ?
AND, HAVE IT COVER ITS OWN EXPENSES, RIGHT AWAY, AND EASILY PAY FOR ITSELF IN LESS THAN 1 YEAR ?
AND, GIVE YOUR STATION MANAGER/DIRECTOR A YEARLY SALARY TO LIVE ON ?
IF NOT, SEND FOR THIS eBOOK !!!




Plus, You'll Also ;
-Learn how to operate your station unattended.
-How remote broadcasts can be a goldmine for a LPFM.

-Internet streaming equipment, and information.

-How independent programmers can greatly benefit your station.
-How to get a volunteer worker program established.
-What you need to know about the Emergency Alert System. What equipment to buy, studio to transmitter links, and much more.
Low Power AM Option (LPAM)
AND, IF YOU WERE UNABLE TO FILE IN THE LAST FILING WINDOW, AND WANT TO GO 'OVER THE AIR' RIGHT NOW, OR INCREASE YOUR LPFM'S COVERAGE ;

-How you can, without an FCC license, (and it's totally legal), operate an AM station that covers 1.5+ mi. in all directions from your transmitter (with "full quieting", 2+ mi. total usable coverage), or an entire town with a network of transmitters !! This can clean up problem areas for your LPFM, and open up a new source of funding, delivering older listeners ! It is currently being done in Flagstaff, AZ and elsewhere across the country. The AM station in Flagstaff was once rated #3 out of all the stations in town !! Legally, without an FCC license needed !

And, you can run this AM separately, for profit !
Finding a Transmitter For LPAM That Performs Well Is Difficult. I'll Tell You The Manufacturer We Found, That Provides A Solid, Exceptional Product For LPAM, With A Long List Of High Profile, Business Testimonials !

And the cost for a LPAM is substantially less, with no need for EAS equipment !

Examples of LPAM's :http://www.lpam.net/index.html

http://www.ktfl.net/index.html


http://wnar-am.com/graphical/
THIS eBOOK WILL PAY FOR ITSELF REPEATEDLY !
Recent Unsolicited Testimonials :
"Thanks Steve, it has already helped, the antenna length will be 80 foot, if City ordinances don't let me its nice to know I can go 60 foot with or without there permission, thank you so much, I really needed this book, and I have not had the time to read it from page to page yet I just skimmed through it, I love it. My only hold up now is my registration to the AFF, then I believe I will get my construction permit, I am a singleton and that great !"
Bill

"Steve, Thank you so much! I appreciate your helping us." Sincerely,
Jo
"Thanks so much for the book--it is already filling our radio station crew with tons of ideas. Guaranteed to pay for itself many times over!"

Stephen,
I purchased your book...great stuff!!

-Over 250 copies of this eBook have been sold to LPFM applicants and new licensees, as of 12/2018. Including churches, schools, colleges and universities, state and local government entities and other groups.
To purchase this eBook, (16MB PDF) with "instant download"
from Payloadz.com for $35,
secured by Paypal, click the "Buy Now" button below:
We now have our own MOBI (Kindle) version of this eBook for sale.
You get both the MOBI, and a complimentary PDF copy to download.
Please click the "Buy Now" button below, for the MOBI & PDF versions

for $40, secured by Paypal, with "instant download" from Payloadz.com :
An ePub version is now available also, with a complementary
PDF copy for $40, secured by Paypal, with "instant download"
from Payloadz.com. "Click" below:
You can purchase a spanish language version of this eBook,
in PDF, MOBI (Kindle) and ePub, by clicking the website address below.

(Usted puede comprar una versión en español de este libro,
haciendo clic en la dirección del sitio web a continuación) :
http://sgkpublishinginespanol.yolasite.com
English and spanish versions of this eBook, on ePub,

are available from Barnes & Noble/NOOK and Smashwords for $40.
Also, in MOBI from Amazon for $40.

Don't forget about station & home security !

When you go "on the air", the best and worst of the

town will come knocking on your door !
I have a bandana type, for running in and out of a store, but thought I should get a mask, if I'm going to be in a place for awhile. $5.27 delivered 4 days, off eBay. Face Mask Reusable Washable Covering Masks Fashion Clothing Men Women, or just search "face mask".
Material may seem thin, but very comfortable, and should be adequate. Rated Safety Level Class B, China standards.
They have several at good prices, delivered USPS from US dealers, on eBay.
https://abcnews.go.com/GMA/Wellness/video/face-masks-provide-best-protection-71550321
Kindle and ePub readers available for free !

- For Firefox (mozilla) ePub reader add-on :

https://addons.mozilla.org/en-US/firefox/addon/epubreader/

- For Google Chrome ePub reader :

To start reading eBooks from your Chrome browser, go to the MagicScroll
or ePub reader extension page, and click on 'Add to Chrome' to install.
For detailed instructions, go to bottom of page, "Classic Books On ePub And
Kindle.